History of Evangeline Co-op Funeral Home
The Evangeline Funeral Home is a co-operative venture of the people of the communities surrounding Mont Carmel, Egmont Bay, Wellington, Richmond, Grand River, and Miscouche, PEI.
Our Funeral home started in 1987. Currently we have a membership of 650 members.
A nine member board and one administrator oversee the working and operation of the funeral home.
The Evangeline Funeral Home offers full funeral services in a very attractive and functional building on a beautiful site with ample parking.
We also offer French and English services at all times.


La Coopérative funéraire Évangéline Co-op Funeral Home, 900, Route 124, Urbainville, (902-854-2828)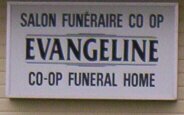 Our Location
900 Route 124
Wellington, PE C0B 2E0
Phone: (902) 854-2828
Fax: (902) 854-3293